People all over Northwest Indiana have been enjoying the great food and friendly atmosphere at Holly's Restaurant and Pub since 1974. That's when Mike Buda, Holly's founder, opened his doors after many years in the hospitality industry at other area restaurants. It wasn't long before word spread that the food was delicious and reasonably priced, the service was excellent, and Holly's became a favorite choice for casual family dining.
Keeping the business in the family, Mike Buda's daughters, Jennie and Michele, spent time helping their dad at work during their youth. Following their graduation from Purdue University's Hospitality and Tourism school, Mike turned the daily operations of the restaurant over to his energetic and capable daughters.
The restaurant serves traditional American cuisine, with select Mexican specialties and Barbeque favorites to really spice things up! You'll enjoy sandwiches piled high with only the best-quality ingredients, delicious homemade soups and salads, and one of the best French Dip sandwiches anywhere. For dinner, try our strip steak – or feast on a variety of appetizers and late night munchies at our bar. Enjoy your team in action on one of our 15 televisions, complimented by your favorite ice-cold beer, wine, or a cocktail.
The Buda family takes great pride in being a locally owned, hometown-dining establishment. And, in today's market of chains and franchises, it's a pleasure to experience the friendly welcome you'll receive at Holly's Restaurant and Pub. So, whether you're new to the area, just passing through, or a born and bred "MCer" – get together at Holly's for hometown family fun!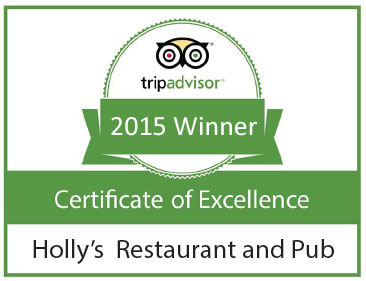 Stuff you should also know – so PAY ATTENTION!
We love cash!
We'll also take your plastic – VISA, MasterCard, American Express, and Discover
No personal checks please – unless we know you really well
Seniors: Enjoy a 10% discount any day! Just ask your server for details
An 18% gratuity will be added to parties of 8 or more
Remember…Michigan City is not in Michigan…it's in Indiana
Clean your plate – or we may have to call your Mom!
Recycle!
And tip well (please)! Holly's has THE BEST staff around!
Consuming raw or undercooked meats, seafood, poultry or eggs may pose an increased risk of foodborne illness.